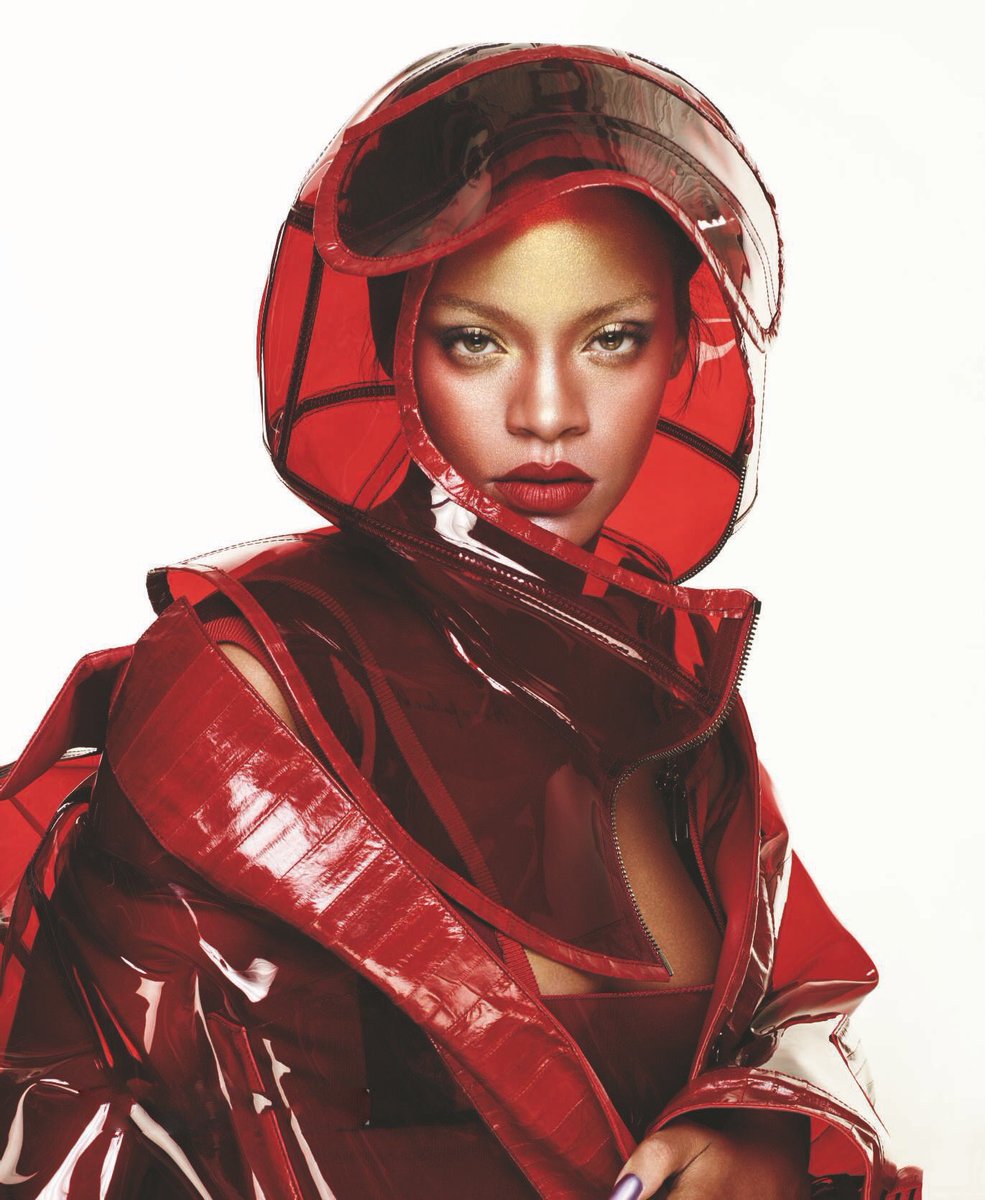 Somewhere between releasing her debut single "Pon de Replay" (to blitzkrieg effect) in 2005 and sitting down to discuss international education with Emmanuel Macron in 2017, Rihanna has become much more than a pop star. The music is still absolutely vital, yes—her eighth album, Anti, which has been kicking up dust on the dance charts since it dropped last year, was deemed by Forbes to be one of the most successful recordings of all time—but as an icon, she represents something far greater: what a woman can achieve when she tackles her career, and her life, on her own terms. Rihanna is always fearlessly, unapologetically herself, whether she's making maverick fashion choices on the red carpet, calling out body shamers, or adding yet another unmistakably RiRi-stamped endeavor to her string of (singer-actress-designer-entrepreneurphilanthropist- etcetera-etcetera) hyphenates. We can now add beauty mogul to that list. The singer has poured her uncompromising attitude into a much-awaited makeup line, Fenty Beauty by Rihanna, poised to launch with a big bang of 91 products on September 8 at Sephora (expect lines) and on the brand's website (Internet = broken). Its focus, perhaps surprisingly from a practiced maquillage peacock who has been known to rock vivid blue and ink-black lipstick with defiant f lair, is gleaming, satiny, f lawless skin, built around an assortment of user-friendly highlighting and contouring sticks, and a whopping 40 shades of foundation. "The biggest void I've found in the industry is the lack of variety in foundation shades," Rihanna tells us. "That's one of the things that was most important to me—to make sure everyone was included." It's a nod, too, to the complexionperfecting gateway drug that ushered the Barbados native into beauty in the first place: "Foundation was the first product I ever owned," she says. "It was like magic, and I've been in love with makeup ever since." Avidly hands-on throughout the collection's development, Rihanna helmed everything from the playful name selection (there's a gold powder highlighter, for instance, dubbed Trophy Wife) to the packaging, which, like its creator, is multifaceted, with tough, graffiti-inspired outer boxes opening onto sleek, streamlined, sweetly pretty individual products. "There are plenty of options out there when it comes to makeup," Rihanna says. "My approach with Fenty Beauty was just to do things my way."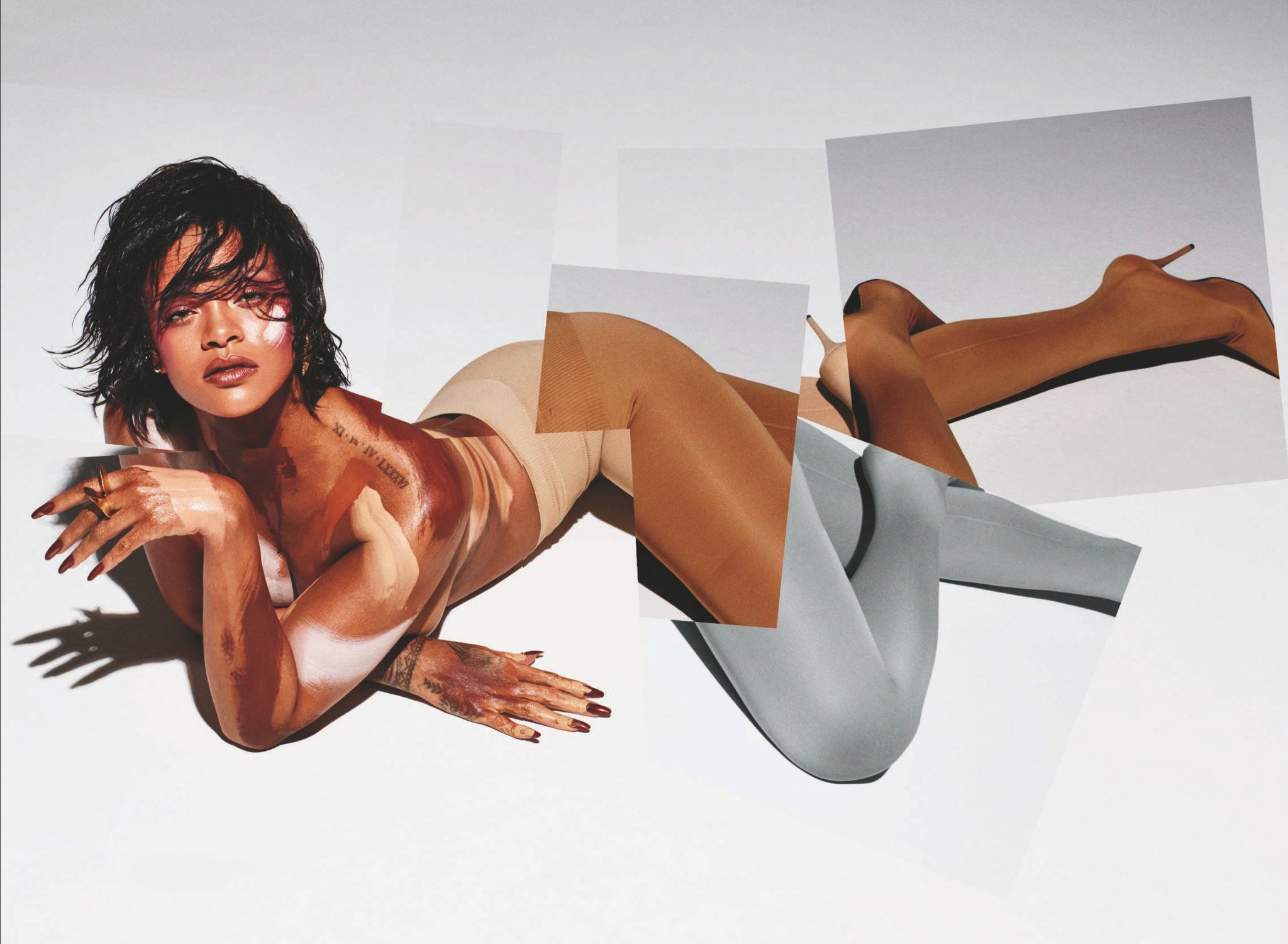 "Rihanna is today's most fascinating performer, a mysterious amalgam of amiable warmth and glittering charisma. With her keen creative eye for line and color, she has become a fashion icon, like Audrey Hepburn. Yet she is a tempestuous wild child and international adventuress, like Ava Gardner. Most importantly, as an artist in this overmechanized age, she bravely draws on deep wells of pure emotion, endearing her to millions of fans worldwide."
—Camille Paglia, Author/Critic
19 Questions for Rihanna, from 20 of Her Friends and Fans
Tyra Banks, Model/Entrepreneur: You're so successful and surrounded by people who want to please you. Who gives it to you straight? For me, it's my mama.
Rihanna: They all fake, LOL, and fired!
Eminem, Rapper: You don't seem like you're ever thinking about trends when you go in the studio, yet you end up setting them. What are you looking at when you start your recording process?
Rihanna: I rarely know exactly what I want to do, but always know exactly how I want it to make me feel. Feeling always leads the sound!
Wyclef Jean, Rapper: The last time I saw you was at the World Cup. If you could be any football player in the world, who would it be?
Rihanna: Cristiano Ronaldo. But then again, Beckham did marry Posh Spice.
Laura Kim and Fernando Garcia, Designers, Oscar De La Renta: What's your best vintage find?
Rihanna: On New Year's Eve, 2016, I bought this costume from 1952 that was worn in the movie Singin' in the Rain.
Tricky Stewart, Record Producer: Do you remember the first time a crowd gave you goose bumps singing all the lyrics to your song in concert?
Rihanna: Yes! I was on tour, and the whole crowd started singing "Take a Bow" word for word…to the point that I couldn't even sing. They performed the entire song for me.
April Bloomfield, Chef: What do you cook when you want a little comfort?
Rihanna: Bajan macaroni pie, which is our version of a baked mac 'n' cheese.
Zac Posen, Designer: What's your secret family recipe?
Rihanna: It's a secret! LOL. But they make a mean "cook-up" and pepper pot. Both are Guyanese recipes.
Jacquie Aiche, Jewelry Designer: What's your favorite body part?
Rihanna: Well, my favorite body parts on pretty much any woman are the collarbone and shoulders.
Charli XCX, Singer/Songwriter: What's your ultimate karaoke song?
Rihanna: Bon Jovi, "Livin' on a Prayer"; Journey, "Don't Stop Believin' "; Brandy and Monica, "The Boy Is Mine."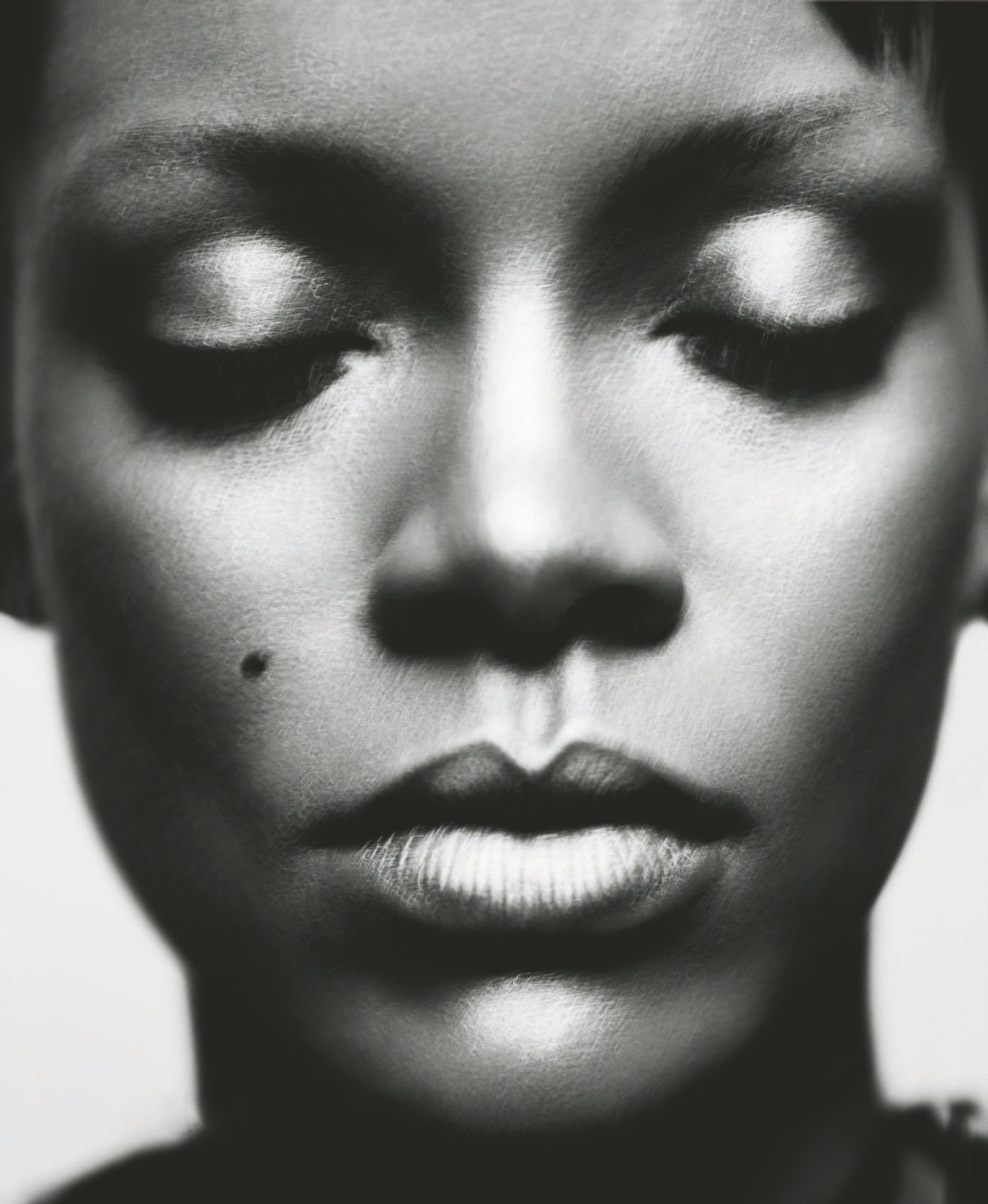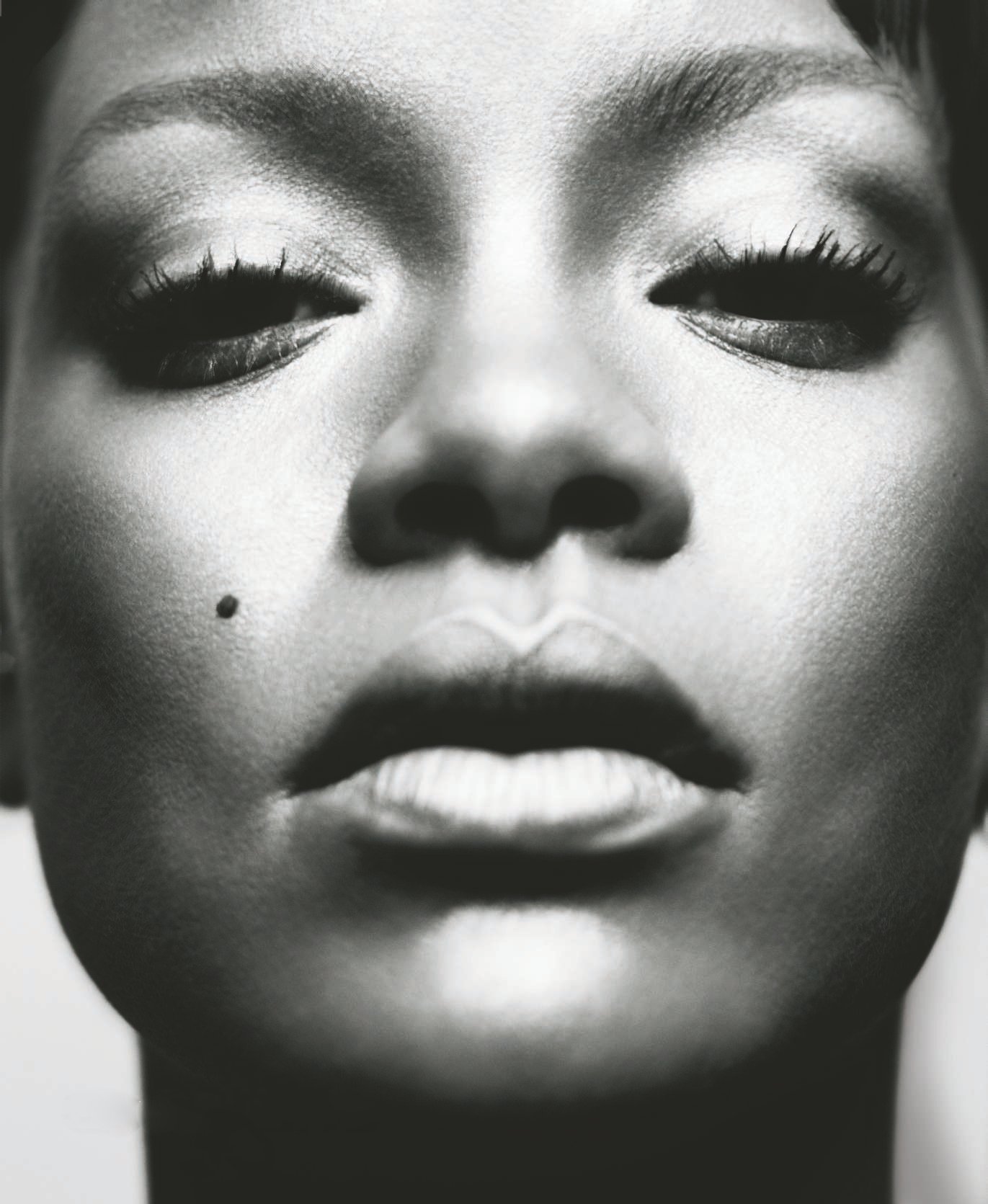 "Rihanna brings 'global gumbo' to the culture. Her voice unites the world through positive music vibes."
—Wyclef Jean, Rapper
Danielle Steel, Best-Selling Author: I love your shoe passion, especially your collaboration with Manolo Blahnik. How much of the designing do they let you do?
Rihanna: They really give me all the creative freedom I could ask for, but of course I have this unique opportunity to work with Mr. Blahnik himself, so his expertise is always more than welcome!
Kelly Fields, Chef (Willa Jean, New Orleans): Your preferences in fashion and art appear to embrace the entire scale of highbrow/lowbrow—which is how I like to cook. I'd love to know if your preferences in munchies run along that same scale?
Rihanna: You mean KFC on a private jet is not normal?
Laverne Cox, Actress: You've had so many iconic fashion moments and take so many risks. The CFDA Awards Adam Selman dress in 2014—what gave you the courage to take that risk that was so perfect and elegant yet daring?
Rihanna: Dear Laverne, I took advantage of my titties before they go south. I saw my window, and I took it.
Pharrell Williams, Musician/ Producer: You're a pluralist in every sense of the word. Did you always have these dreams to do so many things, in addition to being an artist? Or have you just figured that out along the way that there are other things you can do very well?
Rihanna: I've always been a dreamer… or let's just say I kept my options open. In my heart, I knew singing was gonna be in my future, but I considered psychology, hairdressing, banking, teaching, acting, modeling, aviation, and philanthropy. I just didn't know I'd pretty much be doing all of these things eventually!
Gary Ross, Director, Ocean's 8: What's the first thing I should do when I get to Barbados?
Rihanna: [Fast-food] Chefette and a rum punch!
David Copperfield, Magician: I'm not kidding, this is a real offer: I can make you disappear and reappear anywhere in the world. Where do you want to go, and why?
Rihanna: Ten minutes before I lost my virginity…and I'm holding you to that offer. LOL.
Emilio Vitolo, Restaurateur (Emilio's Ballato, New York City): What's the name of the soup dish that's the most popular in our region of Italy?
Rihanna: It's my favorite on your menu… pasta e fagioli.
A$AP Rocky, Rapper: Tupac, Bob Marley, and Time: Fuck? Marry? Kill?
Rihanna: Shit, well, we stay killing Time. Fuck Tupac. Marry Bob, duh.
Olivia Wilde, Actress: What's the most valuable mistake you've learned from?
Rihanna: No cheese for Jay Brown before a flight.
Patricia Field, Stylist: Would you consider having a cocktail with me sometime in the near future? I'd like to get to know you better. (Not hitting on you.)
Rihanna: Your place or mine?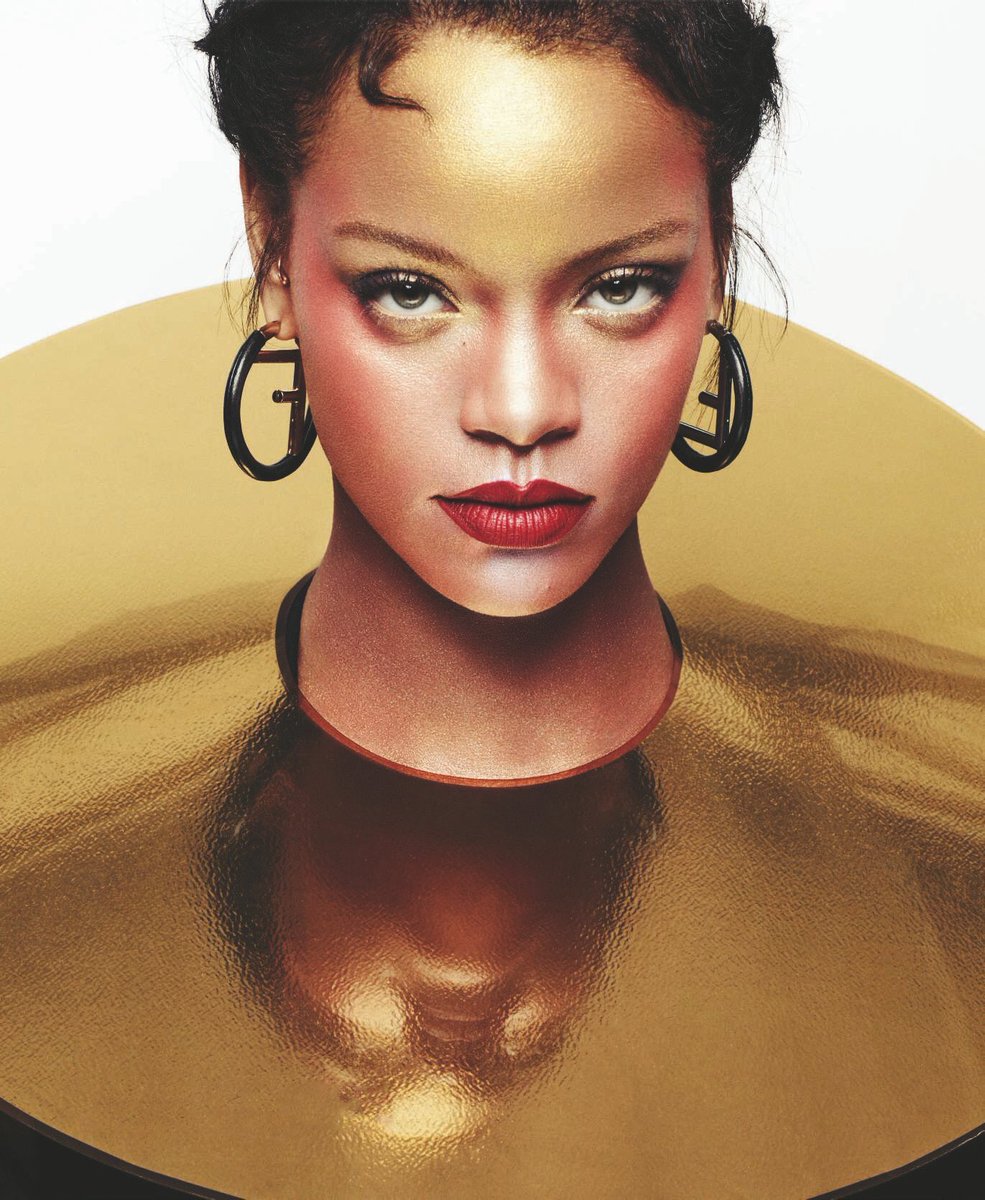 "I love Rihanna. I love that she is herself with no apologies. Her sense of style and self is unique. I love how she transforms herself with each album, each campaign. Always evolving. A true icon."
—Venus Williams, Tennis Champion
We need your insight as the proprietor of Fenty Beauty:
Elle: When did you first wear lipstick?
Rihanna: Lipstick always got me in trouble. Whether it was at home as a kid, or my early teenage years in my career, I always had the urge to wear it. So I broke all those rules. Now lipstick is like my li'l secret weapon!
Elle: What is the craziest thing you've ever done/tried for beauty? Would you do it again?
Rihanna: A corset! I'd do it again, though. I'd wear it every day if I could make it out alive!
Elle: What makes you feel dressy/"done," beautywise?
Rihanna: My finishing touch is usually my highlighter. I love highlighter—it just adds this sense of fantasy to any look.
Elle: Of all the celebrities you've met, who smells the best?
Rihanna: [Photographers] Inez and Vinoodh! Inez smells delicious. She actually gifted me her scent, because I always asked her about it.
Elle: Who's your hair idol?
Rihanna: This is probably confusing to most, but it's in between Toni Braxton from back in the day with all her short haircuts… and Cindy Crawford. She had the most effortless yet stunning hair.
Elle: Who's your makeup idol?
Rihanna: I have to go with Veruschka. She made makeup look like silk!